Many use cases are currently being designed, so check back regularly to find the one that's right for you!
Use case
Whatever your industry, role or sector of activity, we'll make it easy for YOU, and then we'll make it easy for your organization.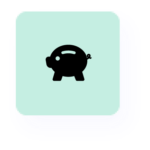 Elemate for #Finance
Finance department, Management Control, Audit, Accounting: to operate with complete peace of mind, it is essential to have processes that are not only well-oiled, but also documented and usable.
How can you avoid wasting time and the pitfalls associated with scattered, heterogeneous documents?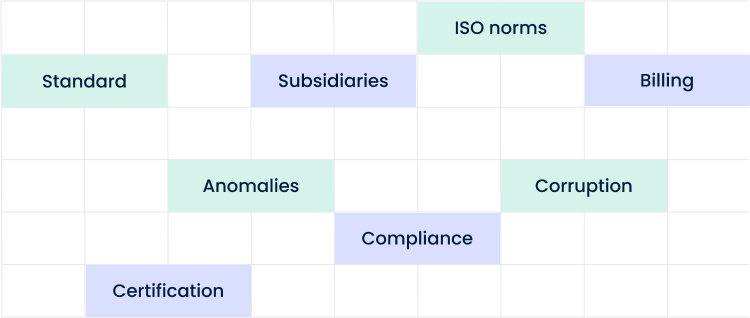 Among commonly encountered problems

Procedures
Drawing up procedures is tedious, and you often don't know where to start. How can you involve your staff in this process?

Centralising
Having a few documents here and there is all well and good... but how can you have consistent, centralised, up-to-date and usable documentation?

Efficiency
For optimum team performance and commitment, you need to continually analyse your processes in order to improve them. Yet another whiteboard to fill in?

Compliance
Subject to a growing number of obligations, you are constantly having to provide proof that your organisation is running smoothly. This is time-consuming and distracts you from the roadmap.
So why are your peers switching to Elemate?
To create a process library
Elemate offers an affordable interface for anyone (from CFO to trainee) who wants to start cleaning up the department's processes. Without needing to be an expert, you can quickly obtain a uniform, standardised and centralised description of Finance activities in the form of diagrams, procedures and operating modes.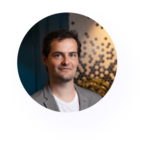 "I was able to quickly list, compare and then harmonise our different invoicing processes by subsidiary"
Peter, CFO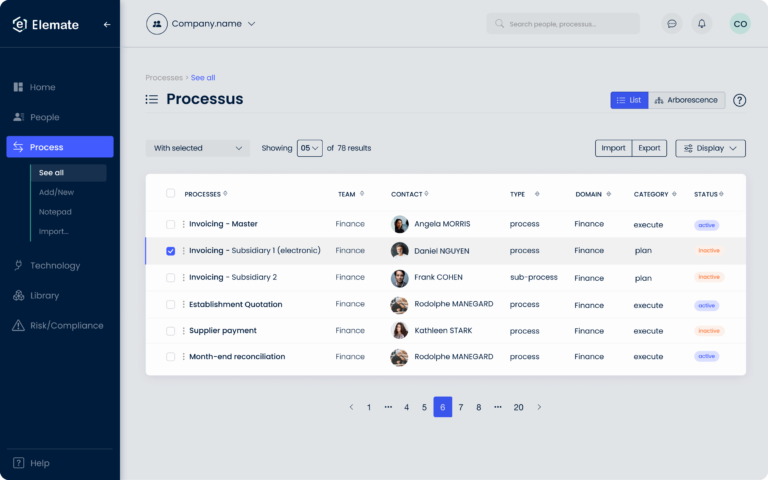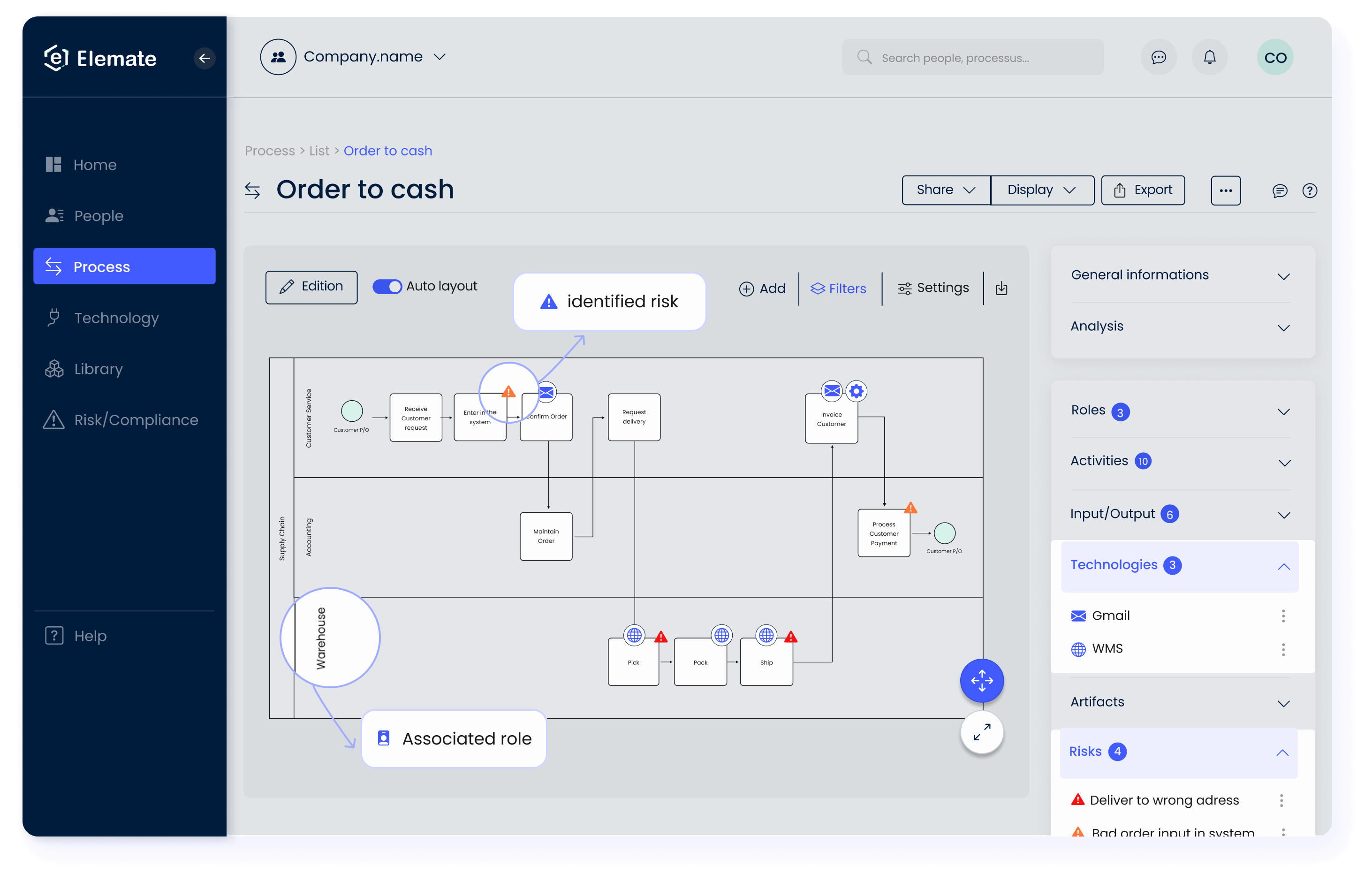 Making the most of qualitative information
Thanks to a standardised but not rigid approach, your process mapping is qualitative: activities, roles and responsibilities, rules, tools, risks and irritants... you fill in the blanks at your own pace, everything is well distributed and documented, ready to be used.
Bringing the perimeter under control
Well-documented processes, committed teams, up-to-date visuals available to find information, train or monitor: you're all set to operate with peace of mind, respond to an audit or prepare for certification. We create a direct link between business activities and regulatory obligations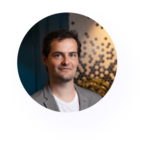 "Once the team was aware of the procedure to follow, the number of irritants reported fell drastically".
Peter, CFO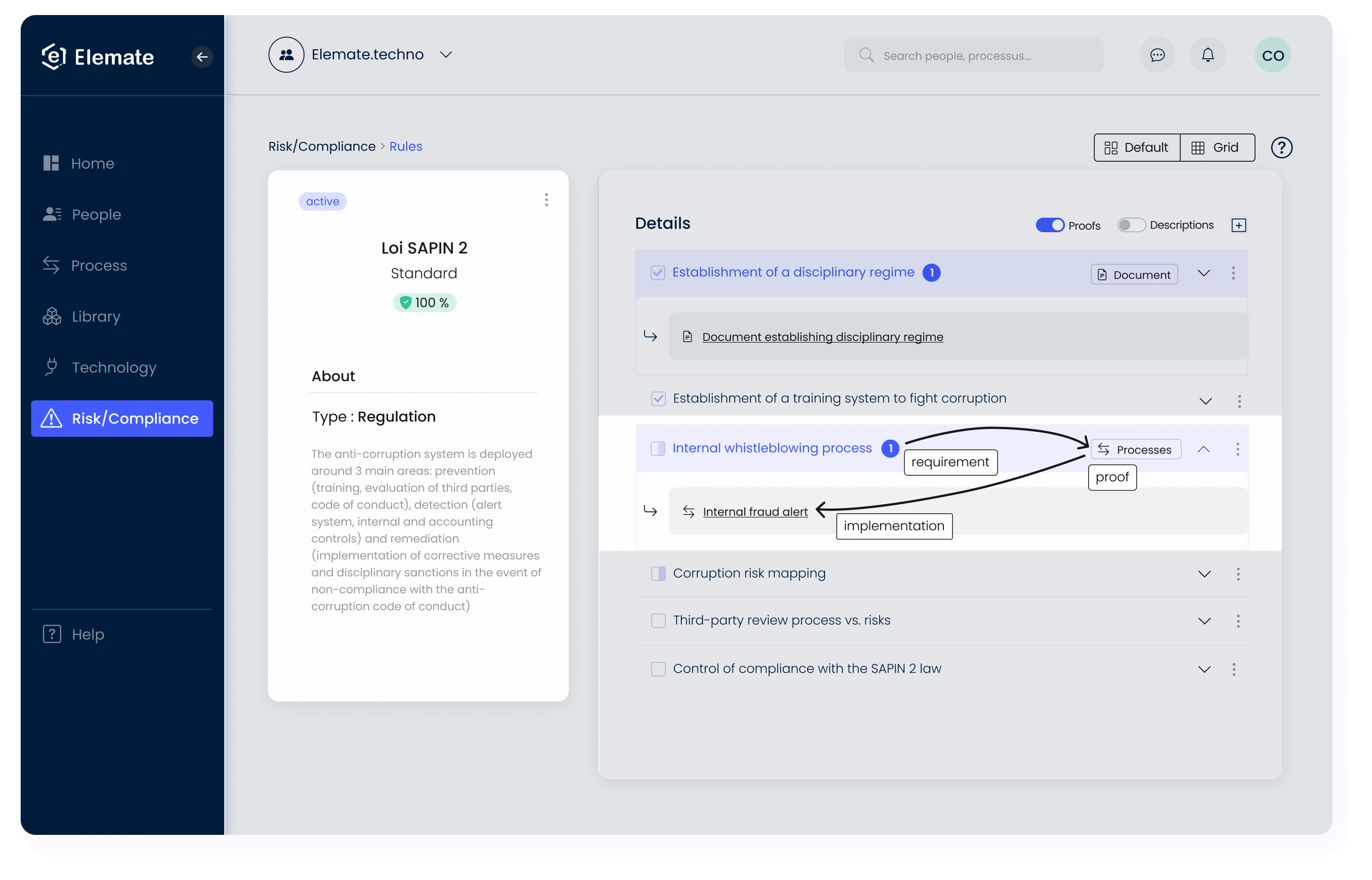 Working on billing traceability ?
Not sure about your anti-corruption measures ?
Your billing processes could get better ?
Someone critical leaving the team ?
Any other questions in mind ?
Let's talk about it and decide whether Elemate is the right fit for your specific situation
Let's have a chat !